Hel | Witch
Hel is a Scandinavian Witch born in Norway circa 900AD, known as nothing but a monster since she was a baby. Her past is tragic and while it's something she doesn't wish to talk about, it's something she constantly remembers. Now she's on a nearly thousand year old quest to end the one who wronged her.
Annie | Vampire
Annie was a regular Texan girl, the perfect "girl next door" kind, the one who everyone knew and the one who would do anything for anyone. Now she has changed and so has her world. She was taken in by Hel and Phyrra after being found in the middle of the road and now must learn how to cope with her new life as a vampire.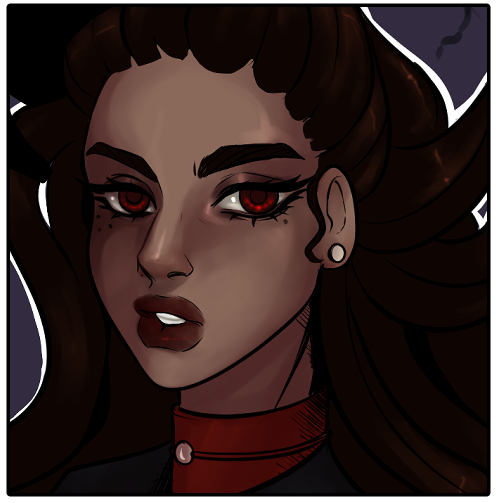 Belladonna | Vampire
Belladonna is an Italian vampire from the 14th century, she's wealthy, powerful and beautiful. She's believed to be the first of her kind and is often referred to as the Daughter of the Night by other vampires because of this, she also reformed the "Ferrymen" and made it so they could save humans and supernatural beings.
Belladonna and Hel met during the 15th century where she took Hel under her wing for 400 years.
Muirne | Witch
Muirne is a vibrant, smug and friendly witch, she's the extroverted friend that's always on the hunt for introverted friends. Muirne was born in Ireland during the 11th century to lowly farm laborers. At the age of 17 she escaped her homeland and found Evina's coven where she received training and excelled at witchcraft, only to leave shortly after and settle in the woods of England.
Phyrra | Half-Elf
Phyrra is a Half-Elf nun who has been reluctantly traveling with Hel since the Medieval ages. She's quiet and respectful (some times…) She doesn't see eye to eye with Hel all the time but they understand each other and their goals, she believes that helping Hel is doing God's work. Phyrra still serves God and often goes to a House of Worship.
Evina | Witch
Evina Blacach ( a.k.a Evina Black) is a Scottish Witch, she encountered Hel some time in 1000AD England. After Evina learned she shared a similar goal to Hel, the two formed an alliance and bonded a friendship along the way. She later on went to join the law to protect more of her own kind (as well as humans) with the assistance of Belladonna.
Supporting Characters:
omg it's empty right now, oh no.
Minor Characters: